Sculpture Fall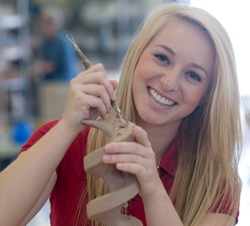 Instructors: Dennis LaValley, MFA and Alex Ordonez, MA

Starts August 21, 2017
Ends December 1, 2017

Class times are Tuesdays and Thursdays from 9:30 a.m. to 12:20 p.m., Alex Ordonez and Saturday from 9:00 a.m. to 2:50 p.m., Dennis LaValley.

Open Studio hours
• Monday through Friday 8 a.m. to 9:00 p.m.
• Saturday and Sunday from 9 a.m. to 4 p.m.

The studio is located in Building J
Alvin Community College
3110 Mustang Road
Building J
Alvin, Texas 77511


Learn through demonstration the fundamentals of hand building with clay. You will develop your own style of expression. You will be able to use several different firing techniques or use painting techniques for surface treatment.

*ACC clay is the only clay permitted in the studio and can be purchased through the college book store or through Marketplace. A fifty pound bag is approximately $25.